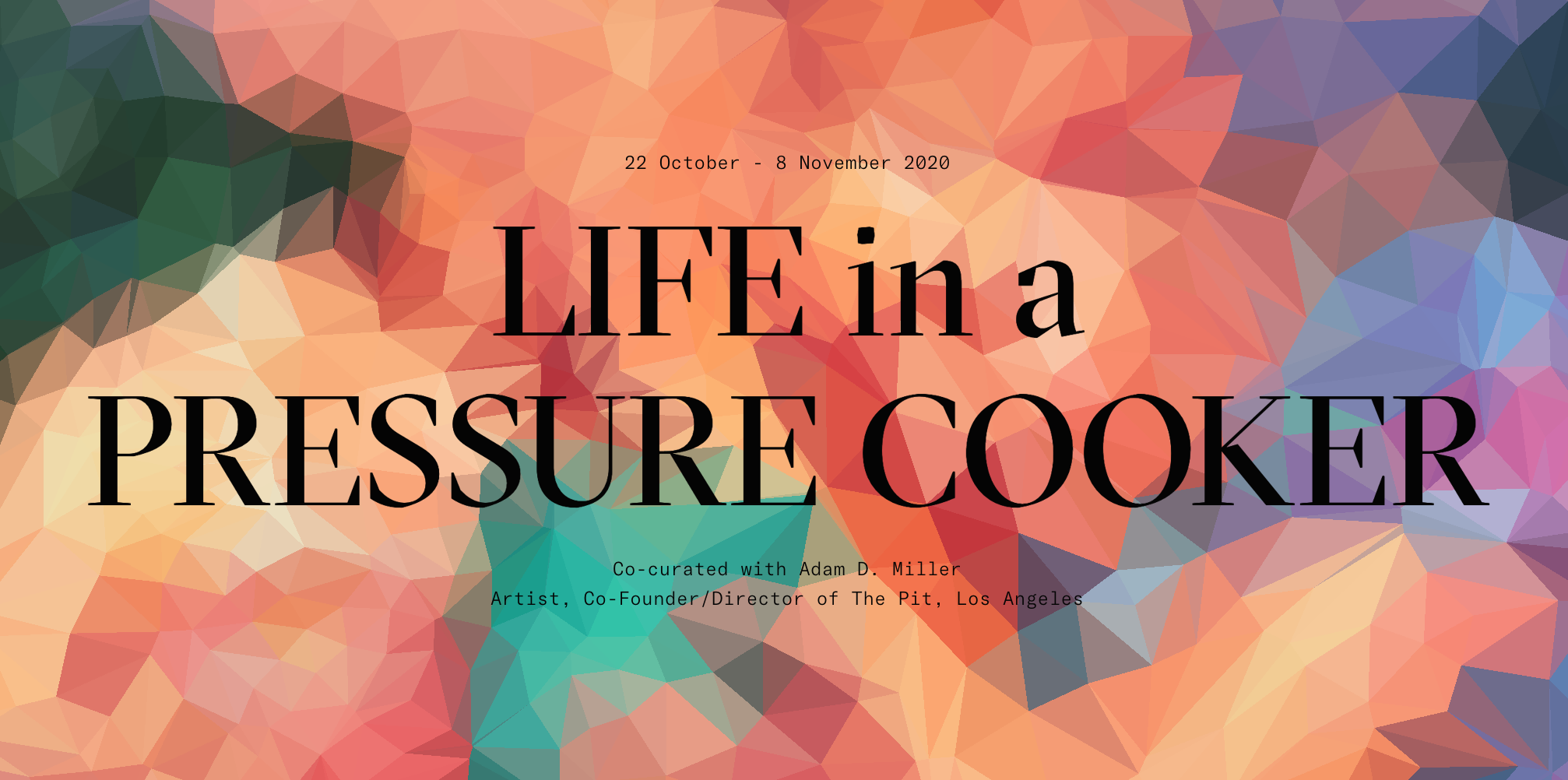 LIFE in a PRESSURE COOKER

October 22 - November 8, 2020

Guest curator: Adam D. Miller, Artist and Co-Founder/Director of The Pit, Los Angeles

Participating artists: Abby Sherrill, Abrahm Guthrie, Anthony Eslick, Benjamin Uggla, Beverly Acha, Bianca Fields, Bruna Massadas, Celine Fournier, Ellen Claes, Emä Léonie, Grace Kennison, Guimi You, Hannah Antalek, Hannah Lupton Reinhard, Jenny McGee Dougherty, Jessica Alazraki, Jonas Wasa, Kaitlin Smrcina, Kelly Boehmer, Kelly Lynn Jones, Pawel Salcedo, Sammy Binkow, Sung Eun Park, Stephanie Boyer, Wade Schaming, Zachary Ochoa


+


At first, it was chaotic. For months, every email correspondence began with, "In these trying times…" as if we didn't already acutely feel a swell of anxiety about what unfolded around us, despite poring through the news on our screens every hour, only to be reminded that no one really knew what was going on. This year has presented myriad challenges to our health and safety, our relationships, how we comprehend current events, not to mention our everyday conveniences and comfort.

The work presented in Life in a Pressure Cooker reflects the artists' daily investigations of identity, relationships and expression within a new reality. They reconcile the anxieties, uncertainties, and imbalances of the present by considering the past and peering into the future. Many of the works possess an undercurrent of agitation or aggression, such as toothy, cartoonish paintings by Stephanie Boyer and Bianca Fields, or the violence of Grace Kennison's Barn Fire. In others, there is a sense of uncertainty, such as Emä Léonie's Colorful Soldier series of ceramic heads; Benjamin Uggla's Paralyzed by Choices, a ceramic sculpture of a seated creature; or a darkened doorway in Jonas Wasa's painting Tangiers. And still others search for balance amidst the chaos, like Beverly Acha's graceful abstract paintings, Guimi You's dreamy landscapes, or Wade Schaming's found-object assemblages.

It seems natural that artists would respond vigorously, creatively, and pragmatically in a crisis: in order to help by raising and donating funds to health or social justice-related causes over the past several months, art-making took on a purpose and vigor that shook it from the consumerist daze it had gradually nestled into over the past several years. Already a central networking tool, social media exploded with art made in quarantine, altruistic efforts to share student work that would have been shown in cancelled degree shows or support other artists through sales. A do-it-yourself mentality sprung up immediately, illustrating--because we may have been slowly forgetting--that artists ultimately beat the path forward, allowing us to visualize what the future can look like, and offer a visual journal, reflecting our collective experience along the way.

-- Kate Mothes




ABOUT


Adam D. Miller was born in Bellevue, WA in 1982 and currently lives in Los Angeles, CA. He received a Master of Fine Arts degree from Art Center College of Design in 2008 and a Bachelor of Arts from the University of California, Sacramento in 2005. Miller's work has been the subject of one and two-person exhibitions at Kantor Gallery, Los Angeles (2020), the Newsstand Project, Los Angeles (2020), Odd Ark, Los Angeles (2019), and Southfield w/ Nora Shields, Detroit, MI (2018), among others. Miller is a co-founder and the current director of The Pit, a contemporary fine art gallery in Los Angeles. Miller has also curated independent projects at galleries and institutions such as Verge Center for the Arts, Sacramento, Guerrero Gallery San Francisco, Luckman Fine Arts Complex, Los Angeles, the Torrance Art Museum, Torrance, Center for the Arts Eagle Rock, Los Angeles, 533 Gallery, Los Angeles, Actual Size, Los Angeles, East Side International, Los Angeles and others.


Kate Mothes is an independent curator, founder of Young Space, and Co-founder/Editor of Dovetail Magazine. Young Space (yngspc) is an independent, itinerant, online-offline contemporary art platform emphasizing early career and emerging artists. Dovetail Magazine is an independent online + print contemporary arts publication that positions contemporary visual art in dialogue with design, architecture, photography, travel, and global visual culture. When not traveling for exhibitions and projects, she is based in Northeast Wisconsin.